24th November 2020, the National Highway 109 (NH109) connecting Rudrapur to Haldwani via Tanda Forest Area witnessed one more tragic accident. The night without the lights on the road turned out to be last breath for a few passengers. A Car (Bolero) and Private Bus rammed into each other. Car was literally left into pieces after the blow. Two passengers in the car lost their lives immediately at the spot. The bodies of the deceased have been shifted to the mortuary. Five more people were found to be injured have taken to the District hospital. Police started the process of identifying the deceased and the injured at the earliest.
As per the sources, in the Tanda Forest Range Area of the Pantnagar Police Range, the vehicles crashed into each other where the passengers in the Bolero sustained serious injuries. All of them have been identified as residents of Haldwani. It is said that both cars were trying to save a bike rider with a pillion. Two helmets were found on the spot, but no valid proof has been gathered so far. Police are still investigating the accident scene. It is said the police officials came on time as soon as they got to know of the mishappening. The traffic that was jammed due to the road blockade was opened for the public efficiently.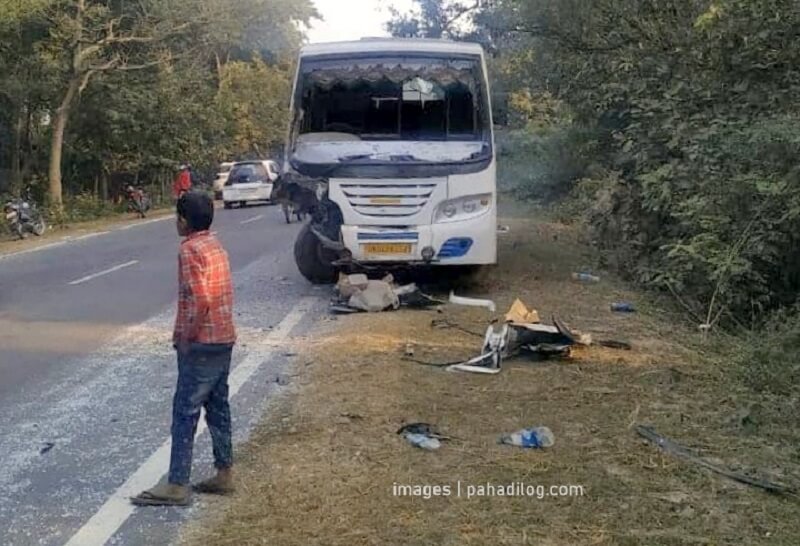 WHY, is what should be answered (Tanda Forest Range)
The Tanda Jungle Area which happens to be the main connecting road between Rudrapur and Haldwani has always been a problem to night travellers. Who is going to take the responsibility of the lives lost time and again?
Is the Govt. responsible for the mismanagement of roads?
Are it the travellers who take the road to reach their destination on time?
The approximate 20+ km stretch of the Jungle area is without a single floodlight; even the reflectors on the road are very few and are sometimes difficult to see at night. This is made more difficult as the vehicles travel at full throttle.
The jungle stretch is a man-animal conflict zone as well, many times some animals get hit by vehicles, which make it more, prone to the further disturbance on road.
At night the road is a total blackout, sometimes a vehicle with low light is not able to see it full clarity what might come ahead.
As the roads connect Pantnagar Industrial estate, the road is mostly dominated by big trucks with big loads at night. This itself raises safety issues for normal passengers.
Way Forward, what can be done to avoid Tanda Jungle Road accidents?
Installations for streetlights as soon as possible.
Night patrolling by police officials.
Speed limit if decided to be followed religiously.
No entry for two-wheelers if they are without helmets.